The Global Demand For Longvida Optimized Curcumin® [INFOGRAPHIC]
The Global Demand For Longvida Optimized Curcumin® [INFOGRAPHIC]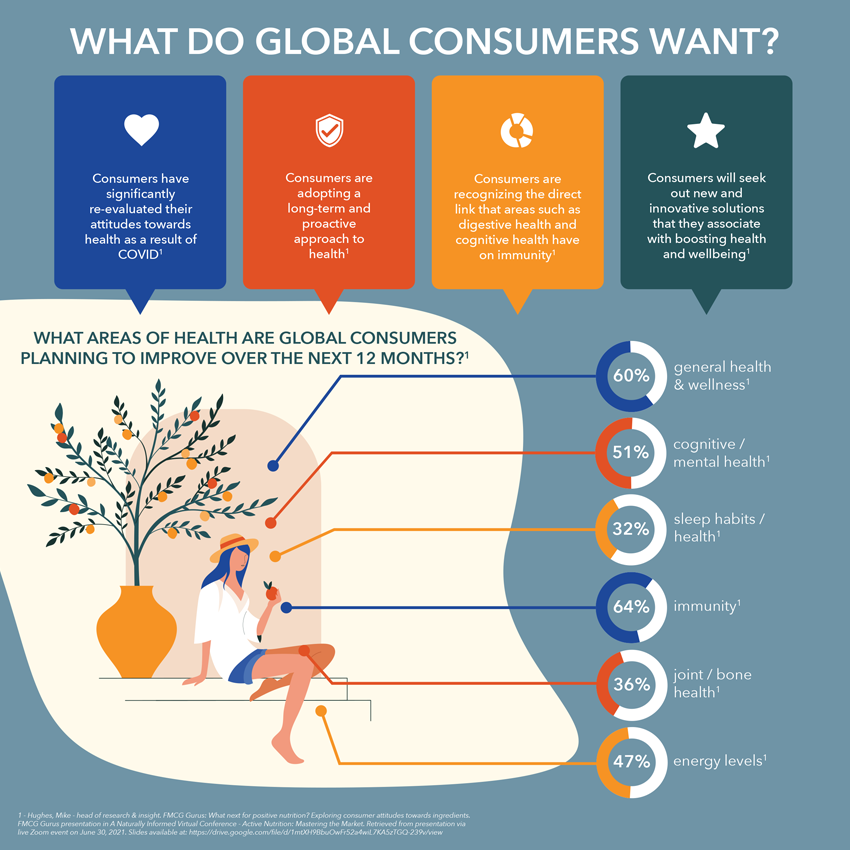 What do global consumers want?
While health and wellbeing trends were instigated by the onset of the global pandemic, FMGC Gurus' head of research and insight, Mike Hughes, stated in a recent webinar series that these trends were inevitable and would have been seen overtime regardless, and as such, are here to stay.1 Trends may have some transient properties, but overall, it is predicted that this will continue upward.1
On the whole, consumers have an invigorated interest in maintaining their health with a proactive approach to lifestyle, diet, nutrition, and wellbeing. According to Hughes, this trend has translated to a market that is "more focused on prevention over cure," and attitudes that have "fundamentally changed [in consumers'] approach to health."1 He goes on to explain that consumers have taken a broader approach to health, acknowledging that they might be vulnerable to due to lifestyle and diet choices, and that consumers are looking to address the interlinked aspects of health through these proactive efforts. Hughes explained that there is recognition that being tired and rundown can contribute to more than a diminished mood; it can also make a person susceptible to disease and illness.1
In particular, Hughes explained that consumers' attitudes toward health and wellbeing have been significantly re-evaluated.1 They have adopted a long-term and proactive approach to health and are recognizing the direct links between many sub-categories, such as how digestive and cognitive wellbeing have an impact on overall immune health.1 This acknowledgment of the links between physical and mental wellbeing have stirred greater interest in a whole-body, holistic approach to health.
Looking ahead, formulators have opportunity to attract a long-term customer-base targeting general health and wellbeing (60%), cognitive and mental health (51%), sleep habits / optimized circadian rhythm (32%), immune health (64%), joint and bone health (36%), improved energy levels / decreased fatigue (47%), weight management (37%), women's health (16%), digestive & gut health (57%), eye & vision health (14%), heart health (65%), muscle health (15%), and hair, skin, & nails (23%).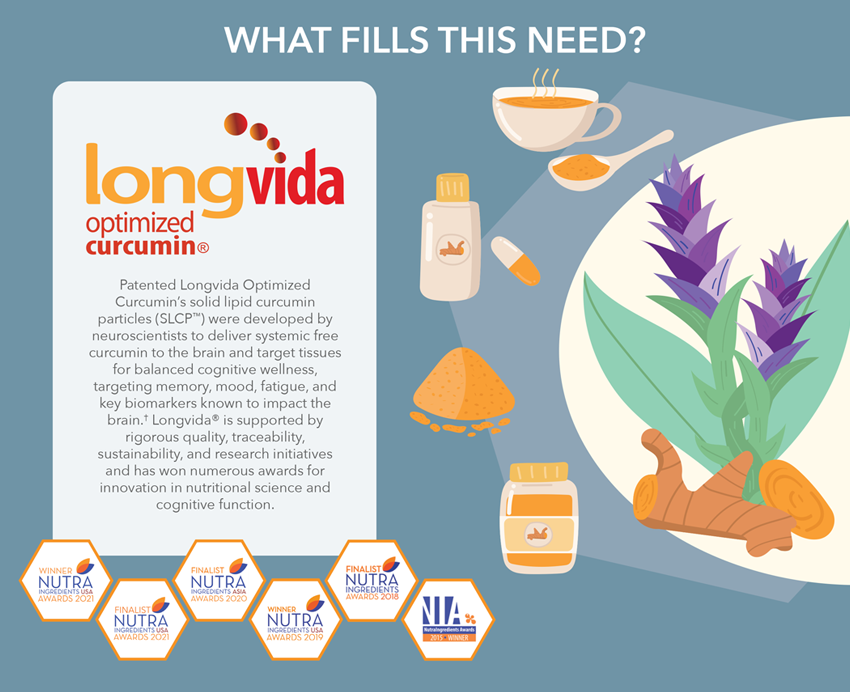 What fills this global need?
With so many areas of health interlinking with one another, formulators and finished product marketers are well-poised to tailor multi-prong product solutions with versatile ingredients and diverse / innovative delivery methods.
With immense opportunity in the areas of general health and wellbeing, cognitive and mental health, sleep habits / optimized circadian rhythm, immune health, joint and bone health, improved energy levels / decreased fatigue, and even gut & digestive support being intertwined applications of interest, it is ideal to select an ingredient with clinically supported solutions to the same.
Longvida® Optimized Curcumin® is a robust solution appealing to consumer demand for multi-prong solutions and flexible deliverability. Patented solid lipid curcumin particles (SLCP™) deliver systemic free curcumin to the brain and target tissues for balanced cognitive wellness targeting memory, mood, fatigue, and key biomarkers known to impact the brain. Longvida® is supported by rigorous quality, traceability, sustainability, and research initiatives and has won numerous awards for innovation and cognitive function.
Want to learn more about Longvida®? http://info.vs-corp.com/what-is-longvida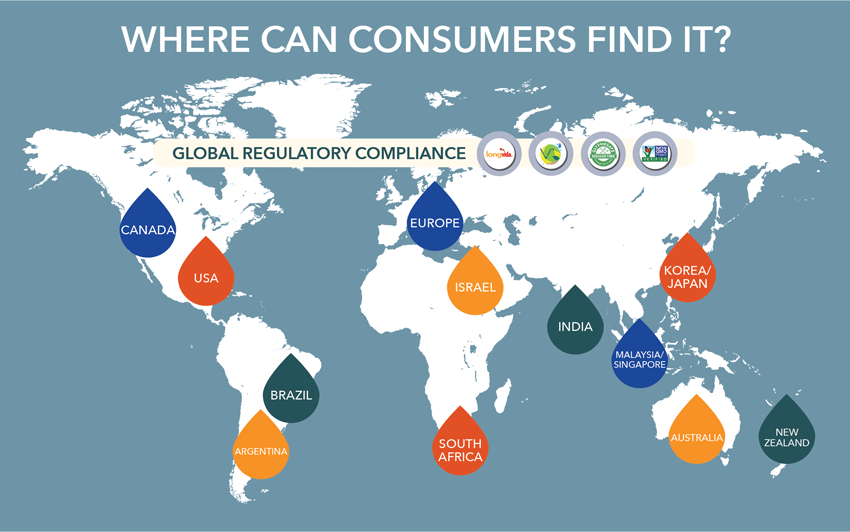 Where can consumers find Longvida Optimized Curcumin®?
For more than 10 years, Verdure Sciences has proudly offered Longvida® Optimized Curcumin®, our patented Curcuma longa extract, to the global marketplace. Throughout Longvida's decade-long history, more than thirty human clinical trials have been published in support of the delivery of free curcumin. Additionally, we are honored to have received multiple awards backing the astounding efforts by researchers, both published and ongoing, as we continue to invest in innovative research initiatives supporting Longvida, and other Verdure branded ingredient solutions, even further.
Longvida® curcumin holds many certifications and accreditations from third party organizations dedicated to upholding quality and promoting elite standards within the natural products industry. We are proud that Verdure is either accredited, verified, and/or compliant with the following organizations and standards specifically associated with Longvida® Optimized Curcumin®:
Meets or exceeds USP/ICH/Prop-65 standards
Informed Choice / Informed Sport compliant
C-14 testing compliant
Verdure Sciences, in support of Longvida® curcumin extract, is a Founding Member of the Global Curcumin Association (GCA), in which we partner with key industry players to jointly promote the betterment of curcumin as a category and the industry as a whole. As Founding Members of GCA, we hold traceability, sustainability, and adulteration controls paramount to the success and understanding of curcumin. Aligned with these objectives, we are proud to work with local farms and farmers to establish generational relationships and offer supply chain controls and traceability standards.