Key Attributes:
Protected by global intellectual property & multiple patents
Clinically researched & numerous published studies
Standardized to deliver free curcumin
Numerous awards globally for outstanding research initiatives
Regulatory & Safety:
Excellent safety profile & traditional use
Published acute & sub acute toxicology data
Non-GMO Project Verified / compliant
National Animal Supplement Council (NASC) approved / compliant
WADA (World Anti-Doping Agency) testing available*
Meets or exceeds USP/ICH/Prop-65 standards
Certified Glyphosate Residue Free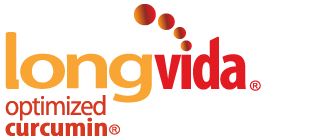 Longvida Optimized Curcumin® was developed by university neuroscientists to bypass initial hydrolysis and deliver unglucuronidated (free) curcumin. For nearly 15 years, Longvida has been the safe, efficacious, clinically supported curcumin extract to beat. Accredited by numerous universities, institutions, and certifying bodies globally, Longvida is well-established with a long-standing history of exceeding global regulatory compliance, offering superior quality assurance and control parameters, as well as being supported by rigorous traceability and sustainability initiatives and clinical validation.
Exclusively licensed to Verdure Sciences®, patented Longvida® solid lipid curcumin particles (SLCP™) enable the uptake of free curcumin to the blood and target tissues. This allows Longvida's curcumin to cross the blood brain barrier and offer efficacious free curcumin at easily managed daily doses, making it the Cognitive Curcumin of Choice®.