Trends Shaping Growth & Opportunities for Functional Foods and Beverages [FORMULATOR'S GUIDE DOWNLOAD]
Trends Shaping Growth & Opportunities for Functional Foods and Beverages [FORMULATOR'S GUIDE DOWNLOAD]
Over the last few years, we've seen significant growth, and the industry's supply and value chains have been increasingly strained. With increased demand soaring to new heights, formulators have been seeking innovative ways to package a compelling story in new and unique deliverables. Supplemental ingredients are now commonplace in functional foods, beverages, snacks, candies, sachets, and more. Consumers have wanted innovative ways to satisfy their rising interest in health, wellbeing, and nutrition, from meatless meat to boosted juices and energy bars.
Formulators are still able to bring health trends to the masses in the food/beverage space, despite a shortage of goods such as veggie caps for encapsulation of botanicals and the bottles to put them in. It is, however, rather daunting to expand a product pipeline into an entirely new space. Gummies, sachets, drink mixes, chocolates, and bars have led traditional supplement formulators into a new tangent of food and beverage opportunities. This window has allowed for innovation in dietary supplements as well as fascinating trends and opportunities.
Functional ingredients such as adaptogens, nootropics, and pre/probiotics have gained recognition in mass markets on a global scale and traditional Ayurvedic botanicals are finding their place in consumers health and wellness regimens; all of which has sparked noticeable shifts in functional food and beverage offerings.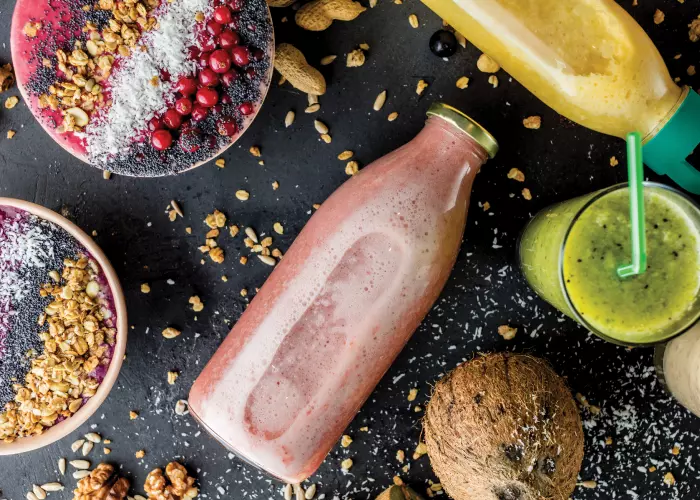 Audiences of Varied Generations
Generation Z or more commonly, Gen Z, are people born between 1997 and 2012, and they are now entering adulthood. With this shift in purchasing power now looming, paired with an ingrained generational stress to help the planet, Gen Z consumers are more likely to turn to plant-based foods, sustainable solutions, and traceable stories. This generation, more-so than their predecessors, will drive demand for products and ingredients that make a positive impact on the planet and the people involved in making them.
The desire to know what you are consuming and putting into your body has only been heightened by the onset of the global pandemic. In addition to wanting a compelling story of doing good for the people and planet, Gen Z also wants diversified solutions that offer multi-prong health benefits. Tangible benefits are not solely sought after in the traditional dietary supplement deliveries like tablets, capsules, and soft gels; this generation is wanting snacks with purpose, clean labels, and added perks to the foods that they are consuming. They are driving functional foods and beverages into the mainstream.
Conversely, Generation X (born 1965-1980) and Baby Boomers (born 1946-1964) are increasing in age and while they are focused on their health and wellbeing, these audiences have not been demanding the same functionality from their foods. These generations may have heard of fortified foods, but are accustomed to dietary supplement deliveries in tablets, soft gels, and capsules. They are not as concerned with consuming gummies, as gummies typically increase the quantity per serving and add unnecessary sugar to their diet.
Formulators are walking a fine line between functional benefits for audiences of different generations and targeting each allows for finished product differentiation.
Functional Ingredients
The functional food and beverage industry has also been shaped by increased interest in what is being consumed. Formulators and manufacturers are seeking out new ways to incorporate classic functional ingredients into more of their products. A recent Food Dive article explained that "while ingredients such as adaptogens, probiotics and nootropics aren't necessarily new, the way they're being incorporated into food and beverages is changing."1
The article went on to explain, "adaptogens, for example, are moving from a powder form incorporated into teas and coffees to mainstream products such as sparkling water, energy bars and chocolate. Other ingredients like prebiotics, often found in yogurt, are transitioning into drinks and foods that can be consumed during different occasions like a [soda] or nutrition bar. [Botanicals like ashwagandha, holy basil] and CBD are making [their] way into sparkling water, beer, coffee, cocktails and even jellybeans to help people relax."1
Shoppers used to look at food and beverage offerings for hydration or sustenance, but increasingly they are turning to them to help improve their mood, gain a boost of energy, provide nutritional benefits, and improve their gut health. The shift is especially prevalent in Gen Z and millennial consumers.1
A 2019 study found 65% of consumers looked for function in what they eat and drink.1 The pandemic has only accelerated demand, with Research and Markets estimating that the global functional beverage market alone will be worth $158.3 billion in 2023.2
What Can Formulators of Traditional Dietary Supplement Products Do?
There is no doubt that the landscape has experienced a lasting shift in buying patterns, from plant-based meat, which has experienced tremendous growth in recent years, to trends in personalized nutrition & wellness products, and consumer awareness of ethical sourcing practices, sustainability missions, and inclination to purchase locally sourced goods. These trends of innovative and personalized products paired with a demand for sustainable & traceable goods has collided with increased costs, supply chain disruptions, and labor shortages has created a perfect storm that now allows for new ways to supply healthy solutions to consumers.
We are on the horizon of an immense opportunity and a maturing customer base. Now more than ever, formulators can differentiate and innovate simultaneously. Consumers want their mood improved, mental clarity, and increased energy & stamina. They want products for their digestive and gut health because beauty comes from within. Formulators can bring a diverse array of solutions to consumers through functional foods and beverages. The opportunities seem endless.
Consequently, with so much potential and growth on the horizon, formulators may feel the pressure of entering a new market while remaining flexible enough to bring products to market quickly. Verdure Sciences® offers unique and innovative solutions to support adaptability and flexibility when bringing a new product to market.
Things to Keep in Mind When Formulating for Functional Foods & Beverages:
Know your audience
Are you targeting Gen Z and Millennials?
What about Gen X and Boomers?
Product goal
Do you want to offer a food/beverage with added benefits?
Or offer a dietary supplement in a new delivery format?
Choose a supplier with integrity
Will your ingredient supplier help you?
Do they know the space you are working in? If not, will they help you adapt?
Does your supplier offer clean label ingredients?
Do the ingredients have the stories that you need?
Does your ingredient supplier have a secure supply chain and/or value chain mitigation?
Be flexible & adaptable
Can you adapt?
Can your ingredient supplier?
Adaptability and quick-to-market strategies can be maximized with accessible stability data, dispersibility insights, sensory profiles, and nutritional facts.
Download the full guide!
This website is not intended for general consumers looking for a finished product.