Verdure Celebrates 25 Years With Launch Of First Sustainability & Global Stewardship Report
Verdure Celebrates 25 Years With Launch Of First Sustainability & Global Stewardship Report
In 1997, Ajay Patel, a Purdue University graduate, founded Verdure Sciences® with a knowledge and passion to promote health and wellbeing. Patel and Verdure Sciences, have found success in substantiating traditional herbals with clinical research; supplying plant-based ingredients to the global market for a quarter-century.
This year, we celebrate providing clinically backed plant-based ingredients to a global market with rigorous quality, clinical, and sustainable efforts in place. While not much has changed at the core of our business, we have adapted to the evolving global landscape and are a key player in the industry.
New Lessons For Today's World
Throughout the pandemic, the big takeaways and messages have heavily focused on supply chain mitigation for all companies. In addition to supply chain scrutiny; sustainability, traceability, and transparency have all been key points of discussion throughout the year. Nearly all industries have faced challenges with value chains and consistent supply.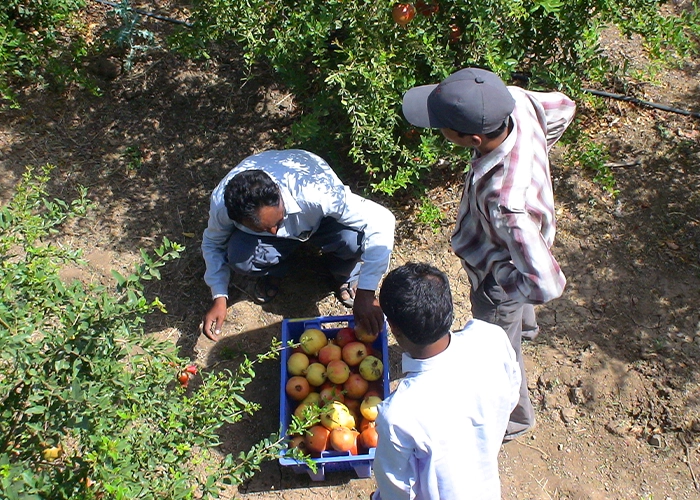 Photo: Pomella® pomegranate, Punica granatum, 2006
Building trust and providing transparent messaging for formulators and finished product manufacturers through sustainable and traceable initiatives continues to find a place in primary messages. For our customers, supply chain security and reliable solutions, supported by transparency and traceability have provided an added layer of confidence in the extracts that we supply and make the choice to partner with us an easier one.
We plan to continue driving initiatives to celebrate pillars of our business, with particular commitment to science, quality control, and to the environment, people, plants and planet. Ajay further explained "We have taken extra effort to help formulators and finished product manufacturers share these transparent messages, sustainable story-telling, and high level of traceability that is at the foundation of our corporate mission."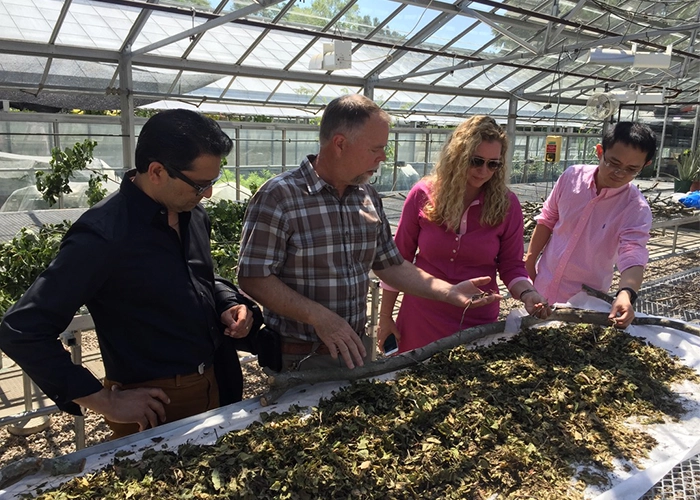 Photo: Sonya Cropper, VP of Marketing & Innovation, Rhode Island, USA with Acer rubrum leaves for Maplifa®
Our Past, Our Future
These efforts are a part of the bigger picture to include sustainable approaches in each avenue of business. While we have always held sustainability and traceability as key pillars of business, we are now sharing these messages in a more meaningful way for our customers. We started sharing these messages through Verdugration® and Verdure Cares®.
Verdugration® is our internal mission for sustainable, socially conscious, and transparent global stewardship with particular focus on the plants, ingredients, environment, and processes. In addition to that, we have Verdure Cares®, a subset of Verdugration® that focuses on sustainable partnerships, social impact, and our amazing team. Combined, under our Verdugration® umbrella, these efforts aim to make our contributions to the planet, people, and practices we employ more meaningful to our customers, but they have always been in practice.
As we carry into our milestone 25th year, celebrating a quarter century in business, we are highlighting core business initiatives, beginning with sustainability, traceability, and transparency; with this in mind, we have created our first Sustainability & Global Stewardship Report.
A big part of this report is to illuminate our past & ongoing efforts. We have taken the time to define our baseline efforts with this first report and explain how we are hoping to measure our initiatives moving forward. We don't want this to be another instance of corporate greenwashing, but rather impart a true change.
Photo: CEO & Founder, Ajay Patel, 2004
Global Consumer Trends
Looking forward, we see that global consumers are seeking out traceable, sustainable, and upcycled ingredients, ones that they "associate with a variety of benefits from a sustainability, ethical, and health perspective."1 Additionally, "story-based marketing is crucial when engaging [with these] strategies – people want to know the story behind the process. [This can] create brand identity, appealing to self-expressionist consumers who want products that match their attitudes and outlook on life."1
With consumers driving proactive choices in health and wellbeing, as well as wanting to make an impact and help others – it is important to share our stories regarding social impact and those involved in the value chain. In addition to knowing what is going into one's body, consumers want to know that they are making a difference too. This has culminated in seeking out clean labels and certified products/ingredients from trustworthy brands with traceable and sustainable narratives.
When asked about the appeal of sustainable & upcycled ingredients, 63% of global consumers reported that these ingredients are better for the environment in general, 62% said these ingredients help address the issue of food waste, 50% indicated the ingredients sound more ethical, and 35% of global consumers said sustainable and upcycled ingredients sound more natural.1
In tandem with traceable, trustworthy brands, consumers have increased concern surrounding the adulteration of botanicals; read more from the Botanical Adulterants Prevention Program.2-4 It is a priority to maintain corporate responsibility to supply chain visibility, brand transparency and traceability, as well as supportive efforts for recognizable and sustainable solutions for the global marketplace.
Upcoming This Year
Stay tuned for monthly features highlighting innovative efforts for sustainable, traceable, and transparent initiatives in different departments, covering various ingredients that we offer, and getting more granular on how Verdugration and Verdure Cares are an integral part of Verdure Sciences:
Highlights of the full report
Case studies & highlight reels featuring: Bacopa monnieri, Boswellia serrata, holy basil (Ocimum sanctum), turmeric (Curcuma longa), pomegranate (Punica granatum)
Sustainable efforts at our Noblesville, IN HQ
The Sustainable Turmeric Program (STP)
Sustainability through our teams – quality, logistics, and supply chain all get involved
Verdure & the UN Sustainable Development Goals (SDGs)