Trust And Transparency Through Third-Party Accreditations
Verdure is proud to provide high quality ingredients with value-added benefits and layers of transparency. Beyond the exceptional quality team, key industry partnerships, and clinical substantiation, Verdure works to further establish supply chain confidence through third-party certifications and verifications. Our dedicated team of quality professionals works closely with recognized organizations to supply botanical ingredients compliant to rigorous standards. A select list of key organizations offering third-party accreditation to one or more of Verdure's signature and/or branded ingredient solutions includes:
Non-GMO Project
According to the International Food Information Council Foundation's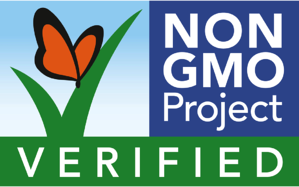 2018 Food and Health survey, 40% of consumers view products that contain non-GMO ingredients as healthier than identical products made with GMO ingredients.1 With growing trends toward healthy, clean products with unbiased evaluation, it is important for many finished product suppliers to carry non-GMO verifications. Verdure has worked to offer a number of ingredients that are verified by the Non-GMO Project, further supporting finished product manufacturers in obtaining their own certifications and in adding a layer of transparency for our customers. At Verdure, we are proud to offer ingredients Non-GMO Project verified including Witholytin™, Bacognize®, Longvida Optimized Curcumin®, Pomella®, Maplifa®, WokVel®, Thymocid®, and Restoridyn®.
According to the Non-GMO Project website the, "verification program is North America's only third-party verification for non-GMO food and products. Third-party verification is the highest quality system when it comes to product labeling and certifications because it ensures products or ingredients have been comprehensively evaluated by an independent party for compliance with a standard developed by industry experts and stakeholders."
Leisha Jenkins, Marketing Associate at Verdure went on to explain, "Verdure continually strives to go above and beyond by providing third-party accreditations as an additional layer of transparency to the efforts already in place for our ingredients. The non-GMO verification is an especially robust offering as this verification contributes to clean label initiatives for many products. We are excited to be able to offer such a well-recognized and esteemed authentication for our botanical ingredients."
The Detox Project
Certified through the Detox Project, Certified Glyphosate Residue Free is an increasingly important  designation  for products and botanical ingredients. According to the Detox Project, "Glyphosate is the most used pesticide in the world and has the highest public profile of any chemical used in food production." Further, they go on to explain that "the World Health Organization considers  glyphosate a 'probable carcinogen', leading consumers around the globe to seek out products free of this potentially harmful pesticide."
This, and increased interest in clean label products, has led many of our customers to look for ways to support transparency with added testing for natural ingredients. Securing this certification, Verdure offers a number of Certified Glyphosate Residue Free ingredients, including, but not limited to, Pomella®, Longvida®, Bacognize®, and WokVel®.
Batch Verified For Sports Banned Substances
Exercise is an integral part of a healthy, balanced lifestyle and running is a common option as it requires very little cost investment. While this activity is a popular choice, it can lead to soreness and inflammation, making ongoing training and conditioning more difficult. In an effort to support nutritional regimens, many athletes and runners take supplements and closely monitor their daily intake. In an effort to add transparency, Verdure offers batch-specific testing for sports banned substances to help to ensure that customers are offering clean label solutions, avoiding banned/enhancing substances.
We proudly offer batch-verification through KorvaLabs for sports banned substances for a number of our ingredients. This testing checks ingredients against 200 substances banned by sports organizations as an added layer of transparency for our customers and their final consumers. This batch verification is available for purchase for both Longvida Optimized Curcumin® and Bacognize®.
Personal Care Products Council
Through the International Nomenclature Cosmetic Ingredient (INCI) process, designed and operated by the Personal Care Products Council, cosmetic ingredients are given a specific name to help further develop accurate, transparent, consistent, and harmonized nomenclature. Names are developed by the International Nomenclature Committee and published in the Cosmetic International Dictionary and Handbook available as a resource to help establish and strengthen ingredient understanding. Through this process, Maplifa was assigned the INCI name Acer rubrum extract. Obtaining an INCI name is an important step in helping lay the framework for standardized nomenclature, which in turn benefits the industry in creating shared understanding.
National Animal Supplement Council (NASC)
Verdure is proud to be deemed a preferred supplier by the National Animal Supplement Council, which, according to their website, is defined as "pre-qualified companies that supply products and services to NASC Primary Suppliers." Furthermore, NASC states that their "focus [is] on the entire supply chain [through the qualification of] raw material suppliers, manufacturers, testing labs, and service providers," explaining that "pre-qualification allows Primary Suppliers to accept and use the products and services without additional vendor qualifications and procedures required under NASC cGMPs. The program helps ensure total quality confidence throughout the entire supply chain, from start to finish."
As a preferred supplier, Verdure ingredients are scrutinized to support "quality and confidence in the supply chain from start to finish." A program seal is supplied to companies that "satisfy stringent acceptance criteria each year to ensure ongoing compliance."
Verdure's NASC approved ingredients include, but are not limited to, Pomella®, WokVel®, and Longvida®. This valuable distinction for our customers aims to support products targeting animal health and companion animal supplements. Verdure strives to employ that same commitment to quality assurance and traceability for all applications, including for animal health support.
Looking Forward
Verdure strives to offer quality, traceability, and transparency at all levels; leading to the use of third-party verifications and certifications to communicate this commitment. Additionally, the Verdure Sciences team works hard to uphold quality standards not only through third-party verifications, but through our own quality processes and best practices. Learn more about the Verdure Quality Team, as well as some of the key industry partners for education, advocacy, and quality Verdure collaborates with to help further the understanding and acceptance of botanical ingredients. †
REFERENCES:
1 – Watrous M. Non-GMO Project growth extreme and consistent. Food Business News. Retrieved June 2020 from https://www.foodbusinessnews.net/articles/14368-non-gmo-project-growth-extreme-and-consistent
† These statements have not been evaluated by the Food and Drug Administration. This product is not intended to diagnose, treat, cure or prevent any disease.