Verdugration® Case Study: Bacopa monnieri Traceability & Transparency
Verdugration® Case Study: Bacopa monnieri Traceability & Transparency
Proprietary Bacognize®, Bacopa monnieri, is a natural, full spectrum, extract standardized to promote cognitive function, cognitive acuity, and improve focus, learning, and working memory without stimulating side effects. Backed by thousands of years of traditional use, Bacopa monnieri has been used in Ayurveda as a rasayana.
Rasayana's are said to be Ayurvedic rejuvenators, offering restorative and balancing properties to the body. Traditionally, bacopa has been considered to be a 'medhya rasayana,' or an herb that sharpens the mind and intellect; a nootropic.1-2 it is an important ingredient in many Ayurvedic formulations targeting memory, anxiety, cognition, and concentration.1-2
What Is Bacopa monnieri?
Bacopa is a water-loving perennial that grows in ponds, tidal lands, and wetlands in the tropical climates of Southern and Eastern India, Australia, Europe, Africa, Asia, Sri Lanka, and North and South America. This low-lying succulent plant is known to filter toxins from its surrounding environment.
A majority of bacopa in India is grown in rice paddy fields in Eastern and North-Eastern India, as a secondary crop or after the rice crop harvest. Because it is commonly grown with rice, the soil is known to have trace residue of herbicides and pesticides commonly used in rice agriculture and harvest.
After the rice is harvested and the first rain occurs, bacopa begins to germinate.
Farmers in the region are familiar with the properties of this botanical, so they collect it and dry it on the side of their fields. The farmers work with herbal traders who then supply the bacopa to the industry.
Bacopa became a secondary crop for rice farmers and little care was taken for drying or cleaning of the bacopa post-harvest. Traditional open drying practices were not controlled to protect the crop from possible fungal growth during storage, and care to avoid easily absorbed pesticides and herbicides from this toxin-filtering plant were not traditionally taken into consideration. To mitigate adulteration, a new approach for growing botanical extract grade bacopa was needed.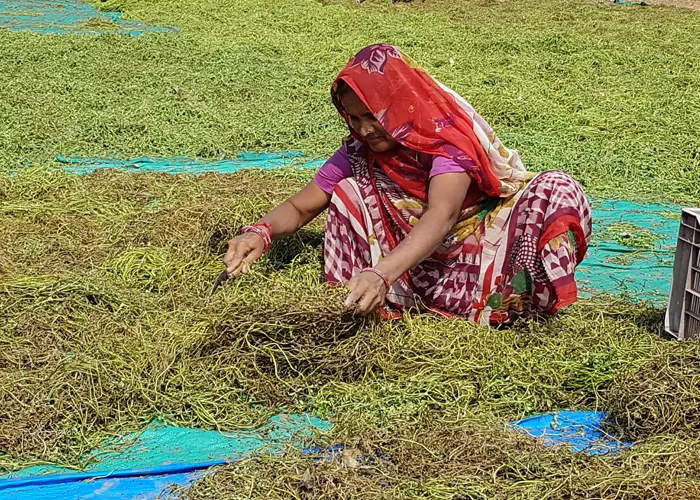 How Does Verdure Sciences® Grow Bacopa monnieri?
Under Verdugration®, Verdure Sciences' internal program encompassing our sustainability initiatives for the planet, plants, and processes, as well as Verdure Cares® (a sub-set of Verdugration®) which focuses on sustainable relationships with people, our social impact, and global stewardship, we have been able to implement and focus on clean label solutions, such as with bacopa.
While bacopa, commonly called Brahmi, is not generally adulterated for commercial purposes like some botanicals, it is sometimes misunderstood for Centella asiatica, which is also commonly called Brahmi. Thus, it is very important to ensure proper botanical ID testing for Bacopa monnieri.
Though both look physically different as plants in the fields, post-harvest and drying could create challenges to differentiate between the two botanicals. We have both in-house and third-party ID testing techniques that we have adopted to ensure the proper identification of our Bacopa monnieri.
Given the susceptibility of Bacopa monnieri to adulteration from toxins, pesticides, herbicides, and heavy metals, adulteration from weeds, mud, possible fungal contaminations from inadequate storage, and other circumstances, we knew that bacopa was a primary focus for Verdure. Cultivation of bacopa was a logical decision to help ensure a clean label botanical offering.
We started the cultivation of bacopa in the Eastern region with tribal partnerships and have since evolved our operations to include Western cultivation. With this opportunity, we have forged lasting relationships with tribal families and family farms. The final bacopa product is clean with controlled drying and collection techniques, such as with innovative polyhouses, which allows us to secure botanical integrity while providing a reliable livelihood and income to the families we work closely with.
We are able to provide training and ensure that growing, post-harvest processing, and packing is done with botanical integrity held as a top concern, which in turn provides both a high quality and consistent bacopa extract.
Digital Interview
In a digital interview with Dr. Lal Hingorani, PhD, and Dr. Shweta Singh, BSc, MSc, PhD, we were able to capture a more robust picture of the initiatives in place to maintain traceability, transparency, and sustainability of Verdure's bacopa.
Dr. Hingorani explained, "Bacopa monnieri germinates in roughly a week and grows in damp land; often It is called Neer Brahmi with Neer meaning water and Brahmi referring to bacopa. It requires a lot of water and land capable of retaining water."
Hingorani went on to explain how this nootropic botanical has been standardized to support mental acuity, "Bacosides, or [the] active component/s in bacopa [are] known for its activity in supporting brain health."
Dr. Shweta Singh, BSc, MSc, PhD, explained:
Specifically looking at bacopa, what, in your opinion, are key traits of a safe, effective, and traceable bacopa extract?
Authenticated raw material, control on the quality of biomass, bioactive constituents, compliance with international regulatory requirements for heavy metals, pesticides, Polyaromatic hydrocarbons PaH, microbial loads are some of the crucial factors. Safety and efficacy evaluation of the plant extract also play a vital role.
What misconceptions surround bacopa extracts and their supply chain? What impact/s does this have on providing a clean label ingredient?
Adulteration in herbal products could have serious health implications, which could lead to safety concerns, thus lowering consumer confidence and ultimately reducing the trade value of the herbal products. Therefore, proper identification tools (microscopy, macroscopy, and chemical), source traceability, and impurity testing are critical for justification of authenticity.
Where do you see safety, proven efficacy, and sustainability interest? What impact does this have on the industry?
Bacopa is a promising herb with huge market demand due to its medicinal properties. The efficacy and safety of Bacopa monnieri has been well studied through a systematic review and meta-analysis of randomized, controlled trials examining the beneficial effects of Bacopa monnieri, and in particular, its cognitive functions. This provides even more validation to the importance of safety, quality, and sustainability of bacopa. Provided these requirements are met, we anticipate the demand for this botanical to continue to grow globally.
Do you see adulteration as a concern for bacopa extracts and if so, can you expand upon this concern?
Yes, indeed this is one of the major concerns. However, being one of the key players in the herbal space and having close to two decades of experience with bacopa in particular, we have certainly learned a lot over the years. We have put appropriate measures in place including traceability initiatives, identification, chemical and impurity testing to ensure the appropriate qualifications of the bacopa extracts we supply to the herbal industry.
Based on your years of experience, what are some unique and effective ways of mitigating adulteration concerns in the natural products industry?
It starts with identifying the indigenous regions where the botanical best thrives and is traditionally grown and harvested; working closely with local tribes, farmers/growers to understand the history of how the botanical grows, is harvested, and processed post-harvest. This knowledge provides valuable information to help manage adulteration with other locally grown botanicals and foreign matter. In addition, appropriate ID methods including microscopy, macroscopy, chemical, and DNA techniques can further validate the authenticity of the botanical.
The ability to work directly with growers and collectors also helps in limiting the number of sourcing tiers and would be extremely useful in controlling adulteration. Finally, at the manufacturing level, having stringent processes and GMPs at every stage in the production process would eliminate the incorporation of adulterants.
Bacognize® – New Sleep Hygiene Study
In a recently published study examining human sleep hygiene, Bacognize® was found to increase emotional wellbeing & focus, and improve alertness upon waking & wakefulness—even in instances where sleep patterns were not improved. "Results strongly suggest that supplementation with Bacopa monnieri (as Bacognize®) boosts post-slumber mental energy and acuity, as well as alertness and mood."3-4
Sleep smart with Bacognize®: NutraIngredients-USA
Read More:
Vitafoods Insights
A 2020 Highlight: Our Bacopa monnieri sustainability & traceability [CASE STUDY]
Bacopa monnieri & Potential Cognitive Benefits
Bacopa monnieri in eSports